Introducing the Airocide HD Series
Applications for the Airocide HD Air Purification Systems are Endless: From homes, offices, dentists, doctors, medical healthcare, schools, gyms, athletic facilities and any other common spaces.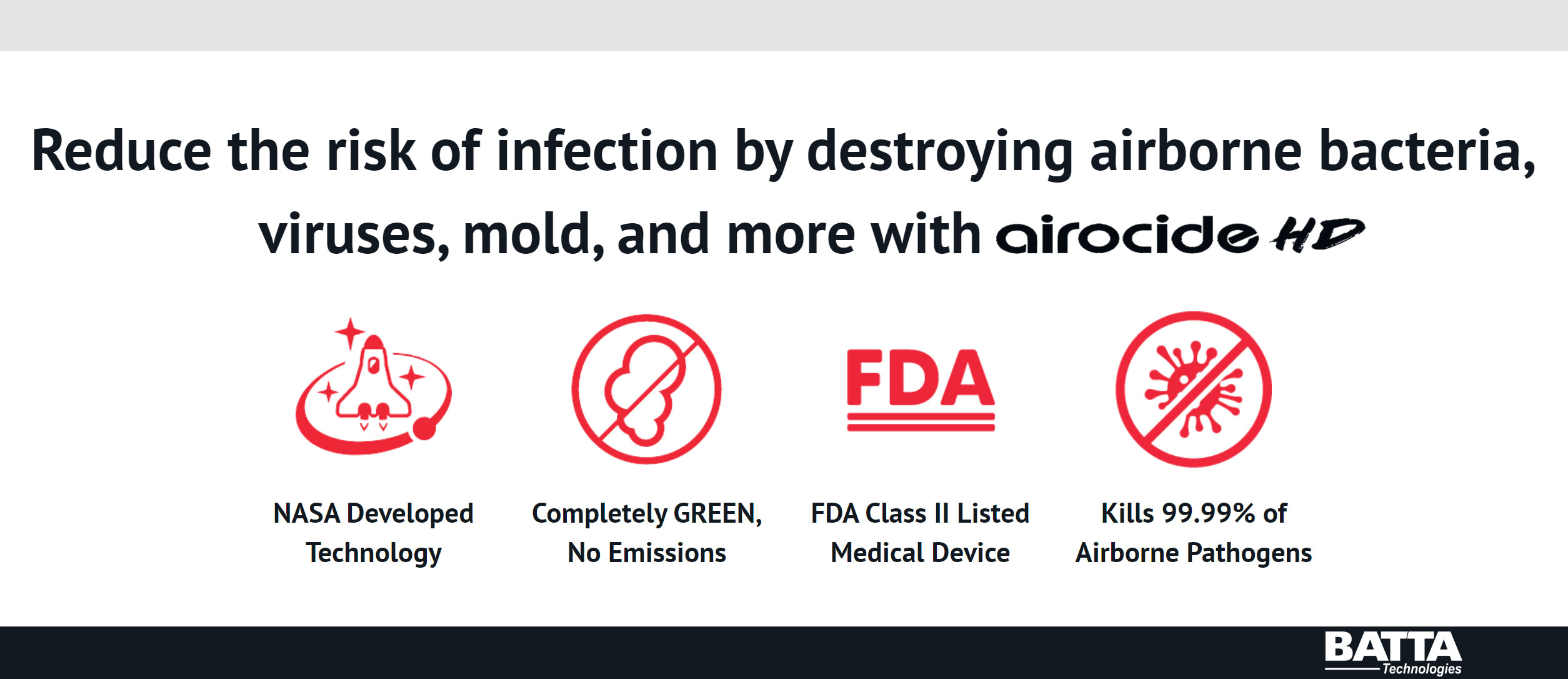 Ideal for reducing exposure to viruses, respiratory tract infections, fungi, and allergens, the new Airocide HD is designed to purify the air in your large workspace. Whether in your office, warehouse, or fulfillment center, you can use the same NASA-developed technology that's in Airocide HD to protect your entire workforce. Since 2000, our products have been used to defend against airborne contaminants in various industries. Now you can use the Airocide HD to purify and protect the air in your entire facility. Learn how you can put this powerful technology to work in your large workspace.
Reduce Contaminants and Viruses
Airborne contaminants such as viruses can be a serious threat to the health of your workforce, but with the Airocide HD, you have powerful air purification for your whole facility. Respiratory tract infections, viruses, bacteria, and allergens are all destroyed as they move through the Airocide HD system, leaving you with pure, clean air. This reduces employee exposure to these threats, keeping your workforce safe.
Proven Air Purification
The Airocide HD utilizes the same NASA-developed photocatalytic oxidation technology as Airocide to reduce contaminants. Air passes through a sealed chamber containing our patented catalyst. As it moves through the unit, proprietary high-intensity PCO lamps activate the catalyst, filling the unit with hydroxyl radicals. These radicals react with and destroy respiratory tract infections, viruses, and allergens – reducing them to trace elements of CO2 and water vapor. Pure air circulates out of the unit.
Thorough Protection
The Airocide HD can also reduce airborne mold and fungus, bacteria, and volatile organic compounds (VOCs). A single unit can purify the air in a large office space, and multiple units can be used for warehouses or fulfillment centers. We recommend that you contact us to get a proposal unique to your facility so that your space is fully covered.
Improve Air Quality for Your Workforce
Don't take chances with the quality of the air in your workplace. Protect the respiratory health of your employees with the Airocide HD air purifier. Help eliminate and control viruses, bacteria, respiratory tract infections, allergens, and more. Contact us today for your facility proposal, and breathe easier.
For information on Airocide Filterless Air Purification Systems, please contact us at (855) 862-2882 or email us at info@battaenv.com